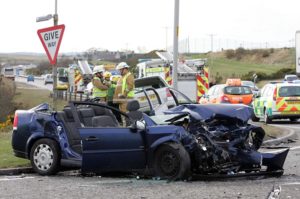 Library picture
Most accidents are caused by drivers making errors or bad decisions, a survey has revealed.
The figures came after Motoring Research analysed more than 78,500 accidents attended by the police in 2019.
Two thirds of accidents (66%) involved driver error – the biggest single mistake was not looking properly.
Poor behaviour – or lack of experience – was found in more than one fifth (23%).
More than 15% of those accidents were down to careless or reckless driving.
Going too fast for the conditions was also a key factor.
Driving error was the main cause of fatal accidents (62%) – with not looking properly the major problem.
Drunk drivers accounted for 6% of all accidents, rising to 8% in death crashes.
Speeding was a factor in 15% of fatal crashes.
Surprisingly, four deaths were caused by cars doors being opened or closed negligently.