Banksy bike disappears from hula-hoop mural of girl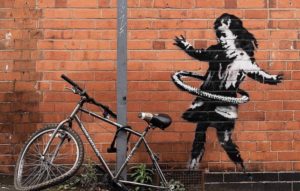 Part of a Banksy artwork has been stolen from a street corner.
A real-life bicycle chained to a lamppost went with a wall painting of a girl with a hula-hoop.
But residents in Rothesay Avenue, Nottingham report the bike has now disappeared.
Tracy Jayne discovered it had vanished on Sunday morning.
Tracy said: "The artwork records an important part of Nottingham's history, Raleigh bikes.
"My late husband worked for Raleigh until it closed in 2002.
"He died at age 48 in 2017.
"It's such a shame if someone has stolen the bike.
"It's sheer disrespect and saddens me very much."
The bike appeared at the same time as the black and white mural was painted.
The tyre is missing from the real bike – and the girl in the picture is using it as a hula-hoop.
Nottingham Council was quick to cover the painting with a clear sheet of plastic – but nothing was done to protect the bike.
Banksy claimed the artwork by sharing it on his Instagram page on October 17.