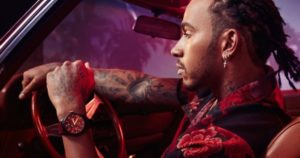 Lewis Hamilton is on track for a knighthood in the New Year's honours list.
Prime Minister Boris Johnson has recommended the Formula One world champion for the award, it is reported.
The decision comes a week after Hamilton won his seventh world championship – equalling the record set by Michael Schumacher.
A knighthood for Hamilton, 35, has been contentious given his tax-haven status.
The Mercedes driver lives in Monaco.
The Times claims that Mr Johnson is "keen to recognise" Hamilton's achievements.
However, the Sport Honours Committee has yet to reach a decision on the award.
The PM has been lobbied by several high-profile supporters of Hamilton.
Former Labour cabinet minister Lord Hain, who serves as Chair for the All-Party Parliamentary Group for Formula One, said:
"If it is correct, I will be thrilled to see Lewis joining the pantheon of sporting knights.
"He is right up there with Sir Bradley Wiggins, Sir Mo Farah, Sir Andy Murray, Sir Alastair Cook and the others.
"Lewis is not just a serial champion, he is actually the biggest British sporting star in the world by far.
"It is long overdue.
"The fact that his background is so humble, and the fact that he is black, just adds to his incredible achievement.
"It is not just what you see in the cockpit of his car, but also his charitable work and improving diversity in Formula One, which could have an impact on other sports.
"He is a role model for young girls and boys whatever their backgrounds, whatever their colour, to be able to reach for the sky."
Hamilton is said to be the greatest ever Formula One driver.
He has won 94 Grand Prix and secured 97 pole starts.
On hearing about the possible award, he said:
"When I think about that honour of being knighted, I think about people like my grandad who served in the war.
"Captain Tom waited 100 years for that great honour, and then you have these doctors and nurses, who are saving lives during this hardest time ever.
"I think about those unsung heroes and I don't look at myself as an unsung hero.
"I haven't saved anybody.
"It is an incredible honour that a small number of people have bestowed on them."