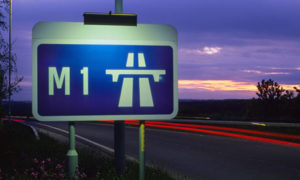 More than £5 million of Apple goods have been stolen in a daring motorway robbery.
A lorry was targeted on an M1 slip road by a gang.
The driver and security guard were tied up while the robbers took the lorry further down the road.
They transferred the 48 wooden pallets to another lorry – leaving behind the two tied-up men.
It's then believed the gang drove to a third lorry parked ten miles away and moved the pallets once again.
The hi-jacking happened on the M1 between Northampton and Rugby between 19.45 and 20.00 on Tuesday, November 10th.
A Northamptonshire Police spokesman said:
"Officers would like to speak to anyone who may have seen a number of vehicles on the slip road at junction 18 between the stated times, which may have looked out of place, or who may have dashcam footage of this area."
"They would also like to speak to anyone who may have been offered any Apple products for sale in unusual circumstances, or who knows of anyone who is selling such items at low-cost prices."
A police spokesman said the stolen consignment included Apple Watches, a variety of iPads and charging devices.
After an Apple iPhone robbery in America in June the stolen devices displayed messages saying:
"Please return to Apple Walnut Street. This device has been disabled and is being tracked. Local authorities will be alerted."
And following two Apple store robberies in Australia messages came up saying the phones were "rendered unusable".
It's not known if the stolen M1 goods have similar security systems.