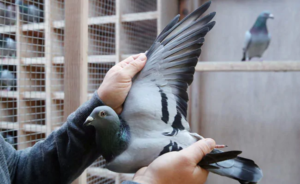 It's a sport usually associated with flat caps and equally flat northern accents.
But pigeon racing has taken off in the Far East.
And it's pushed up the price of premium birds that are breathtakingly quick.
Now, a racing pigeon has been sold for a world record fee of £1.4 million.
The bird – New Kim – is two years old.
She was bred in Belgium – seen by some as the birthplace of pigeon racing.
New Kim was bought by a Chinese buyer after frantic bidding.
A few weeks earlier a male pigeon – Armando – was sold for £1 million.
Auctioneer Nikolaas Gyselbrecht said:
"These record prices are unbelievable because this is a female.
"Armando was a male and males are usually worth more than a female because it can produce more offspring."
Award winning New Kim has retired from racing.
Pigeons can lay eggs until they are aged about 10 years old.
Kurt Van de Wouwer, whose family bred New Kim, said he was in "total shock" at the sale price.
The family has sold its entire coop of 445 birds – making £4.5 million.