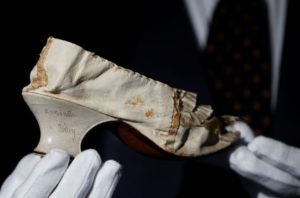 A silk shoe worn by Marie Antoinette sold for £43,000 at auction – more than four times its estimate.
Marie Antionette was the last Queen of France.
She was executed on the guillotine in 1793 during the French Revolution.
Marie and her husband King Louise XVI – also beheaded – presided over a court of extravagance at the Palace of Versailles.
Meanwhile, many French people were starving.
When told of their plight it's said she replied, "Let them eat cake".
The ivory coloured shoe has her name on its heel.
It's a petite UK size three.
It is thought the shoe was worn regularly during daily life at the palace.
After the executions, the shoe ended up with Marie-Emilie Leschevin, a close friend of the Queen's chambermaid.
Auctioneer Jean-Pierre Osenat, said:
"This auction is coming at a time when French people are facing real uncertainties regarding their values, and many of them are clinging onto the history of France.
"Marie Antoinette is someone who arouses the interest of the whole world."
The shoe was bought by an anonymous bidder.