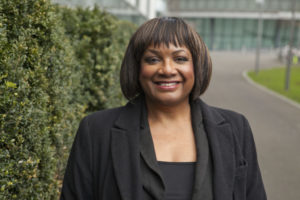 Labour MP Dianne Abbott has "apologised" after sharing a platform with deniers of the persecution of Uyghur Muslims in China.
Ms Abbott – a former shadow home secretary – delivered a speech at an online meeting hosted by the pro-China group No Cold War.
She'd promoted the event on her Twitter feed.
Her opening comments were "I am pleased to be speaking at this important meeting".
Earlier one speaker had accused the foreign media and governments of creating "racial conflict" in China with reports of human rights abuse against Uyghur Muslims.
Ms Abbott said: "I noticed there were some narratives that these people tend to push, they were basically saying those ethnic groups culture and language are being wiped out.
"Their mosques, their temples are being destroyed, or those people are being used as forced labour.
"And I think those people who are fabricating those fictions either don't understand Chinese or don't bother to dig out in the Chinese world because that's basically legally impossible to do in China."
International observers believe more than a million Uyghurs and other minority Muslims groups suffer in forced labour camps in the Xinjiang region.
The Chinese government denies the allegations.
Ms Abbott later said sorry – adding she had "no idea" about the speakers' views before she spoke.
She tweeted: "On Saturday I took part in an online meeting entitled 'Uniting Against Racism and the New Cold War'.
"I had no idea that there were people on the call who denied Chinese harassment and massacres of Muslims in Uyghur.
"The treatment of these communities is a human rights violation.
"Both I and the Labour Party condemn the human rights violations in Uyghur.
"I apologise if my involvement in Saturday's event sent a different message."
However, Ms Abbott's use of the word "if" in her apology angered some people.
John Rentoul, the Independent's chief political commentator, tweeted:
"Yet again. I'm sorry if = not an apology. I'm sorry that = an apology."
The No Cold War campaign believes the UK and America threaten global peace with "aggressive policies" towards China.