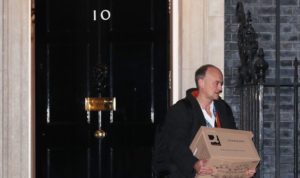 Dominic Cummings has quit Downing Street at a moment's notice after a power struggle.
Mr Cummings walked out of the Number 10 front door with a cardboard box of personal items.
It is not thought he'll return.
The shock departure – he was planning to go at the end of the year – followed a "shouty" row between the Prime Minister Boris Johnson and Mr Cummings.
Lee Cain – who has also quit at the PM's director of communications – was said to have been involved in the exchange of harsh words.
Mr Johnson is said to have told the two men to "go – and go now".
The Telegraph reports that Mr Cummings and Mr Cain had been briefing against Mr Johnson.
They said the PM was "indecisive" and both advisers relied on cabinet minister Michael Gove for "clarity".
Mr Johnson's fiancée Carrie Symonds was also drawn into the political row.
Mr Cummings and Mr Cain said Ms Symonds sent up the 25 texts an hour to the PM about policy decisions.
It was claimed Mr Cain – a former tabloid reporter – called her "Princess Nut Nuts".
Mr Cummings, 48, and Mr Cain, 38, were known as the "Brexit Boys".
They played pivotal rolls in Vote Leave winning to Brexit referendum.
Insiders said the ruled their positions with "an iron rod and not a little fear".