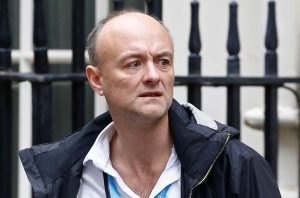 Dominic Cummings – one of the most controversial figures in British politics – is to quit as the Prime Minister's chief adviser.
It's reported Mr Cummings – the driving force behind the successful Vote Leave campaign – will go by the end of the year.
He was one of Mr Boris Johnson's first appointments when he moved into Number 10 last July.
Mr Cummings' leaving comes as Downing Street is wrapped up in political in-fighting among its core team of advisers and spin doctors.
Lee Cain announced this week he was quitting as head of communications.
Mr Cain, a former tabloid journalist, and Mr Cummings were close allies.
As a team they exerted considerable influence on policies and the handling of a strong Vote Leave faction in Westminster.
Tory backbencher Sir Roger Gale said:
"The government, and Downing Street particularly, should be concentrating all of its efforts on the pandemic and on the end game of Brexit.
"Frankly this is a distraction that cannot and should not be allowed to take place and the Prime Minister has got to get a grip on it."
And senior Tory MP Tobias Ellwood told Sky News:
"Let's move a little bit away from EastEnders and more to the West Wing."