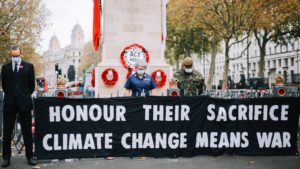 An Extinction Rebellion (XR) protest at the Cenotaph on Remembrance Day has been called "profoundly disrespectful" by Downing Street.
Protesters unveiled a banner saying "Honour Their Sacrifice, Climate Change Means War" at the memorial on Whitehall.
A British Army veteran and XR member then observed a two minutes' silence before laying a poppy wreath with the slogan "Act now".
The wreath was later removed by an angry MP.
The Prime Minister's spokesman said:
"The Cenotaph is a memorial to those who fought and died to preserve all our freedoms.
"On today, of all days, when we join together to pay tribute to our war dead, this action was profoundly disrespectful."
And Veterans minister Johnny Mercer said:
"Climate change matters, but the Cenotaph on Armistice day should be about one thing only – showing our respect for the sacrifice of the fallen who died to protect our freedoms today."
Sir Keir Starmer added to the row.
"No-one can doubt how serious the climate crisis is but the protests at the Cenotaph today were wrong and we do not support them."
West Dorset Conservative MP Chris Loder later took down the XR wreath.
He said: "I could not stand by and watch our Remembrance Day for those who died in war, and to whom we owe so much, be hijacked for a political stunt by this far-left outfit.
"This was totally wrong, and I believed the wreath should be removed.
"This week, thousands of veterans and members of the armed forces have stayed away from the Cenotaph in our national effort to control coronavirus.
"For political protesters to take advantage of this situation is disrespectful to our servicemen and women, past and present."