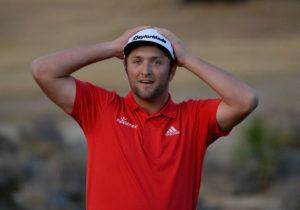 Golfer Jon Rahm celebrated his 26th birthday with an unbelievable hole-in-one after skimming his ball across a water hazard.
Rahm was playing a practice round before the start of The Masters in Georgia, America.
The Spanish golfer hit his ball low across the water.
It skimmed across the surface – bouncing four times – before reaching the 16th green.
The ball then defied physics to curl towards the flag before nestling into the hole.
It was his second hole-in-one in as many days.
Rahm tweeted footage of the shot, captioned:
"Two hole-in-one's in two days – Happy Birthday to me!"
Sadly, there were no crowds to cheer on the world number two player.
However, fans and golf commentators reacted with disbelief on social media.
Reporter Tyler Greever said it was "one of the most ridiculous things I've ever seen in sports".