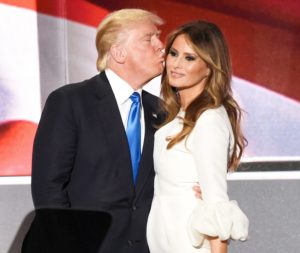 Melania Trump plans to leave soon her presidential losing husband Donald, claims a former aide to the First Lady.
Stephanie Wolkoff said Mrs Trump is already negotiating a post-nuptial agreement.
She wants the couple's son Barron to receive an equal share of the President's fortune.
Ms Wolkoff told the Mail on Sunday the Trumps have separate bedrooms in the White House.
She described the 15-year marriage as "transactional".
And another former aide, Omarosa Manigault Newman, told the paper:
"Melania is counting every minute until he [Donald] is out of office and she can divorce.
"If Melania were to try to pull the ultimate humiliation and leave while he's in office, he would find a way to punish her."
It's said Mrs Trump "burst into tears in despair" when her husband, 74, won the election in 2016.
One friend said: "She never expected him to win and didn't want this, come hell or high water."
It took five months before Mrs Trump left her New York home before moving to the White House.
During Trump's tenure the couple have been "awkward" together.
On several occasions Mrs Trump has either refused her husband's hand or pulled away from him.
However, when asked, they insist they have a "great relationship".
Mr Trump's second wife, Marla Maples, is not allowed to publish a book or give bad interviews about him because of a pre-nup agreement, it is believed.