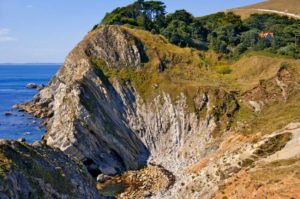 Stair Hole, Dorset
An amateur climber had to be rescued by a coastguard helicopter after he became stuck on a cliff face.
The man was trying to clamber up Stair Hole in Dorset when he realised he was in trouble.
At 70 feet off the ground the conditions were too muddy and dangerous to continue.
However, it was also too difficult to go back down.
HM Coastguard reported the climber was trapped in a "seriously perilous position".
A spokesperson added: "He was completely stuck, 70ft up on an extremely slippery and muddy slope with no safe way of getting back down or to the top of the cliff."
A friend called 999 and alerted the emergency services.
Dorset and Wiltshire Fire and Rescue Service sent specialist rescue teams.
They were joined by the HM Coastguard from Lulworth and Kimmerridge.
After assessing the danger, a coastguard helicopter was brought in from St Athan.
A paramedic was lowered to the stuck climber.
The man – wearing just a T-shirt and jogging trousers – was secured in a harness and lifted to the top of the cliff.
After a check-up, the "cold and visibly shocked" climber was allowed to go home.
Matt West, HM Coastguard duty controller said:
"The man was extremely lucky, one wrong footing and this could have had a very different outcome.
"We are fortunate to have really beautiful coastlines all around the UK, but we want people to enjoy them and then make it home safely.
"Please don't take unnecessary risks and know your limits while visiting the coast.
"Remember, if you see someone in difficulty along the coast or at sea call 999 and ask for the coastguard to save valuable time."
YouTube HM Coastguard