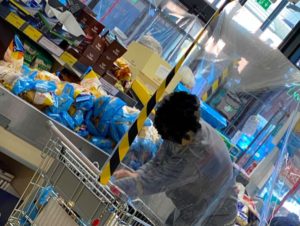 Picture: Stuart Darben
Panic buying has stripped supermarket shelves as Britain heads into a second national lockdown.
One shopper at an Aldi store in Lincoln was seen piling up dozens of bags of rice, pasta, and crisps.
Customer Stuart Darben said he was "gobsmacked" by the hoard of dry goods.
Stuart and his partner went to the store on Newark Road just before midday.
He said: "I was gobsmacked with what I saw and the shopper in front of me was too.
"I could see another staff member looking at the till, but I don't think he wanted to say anything.
"I turned to my partner and said, 'This shouldn't be happening, it's not right.'
"I even said to the check-out operator, is it right he should be doing that?"