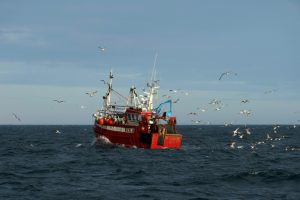 EU Brexit negotiators are said to have conceded a key British demand on fishing rights.
Brussels is reported to have given up on a "red line" UK insistence that catches are calculated on attached zones.
Zonal attachment is a system that works out a share of the catch based on which waters hold fish.
Under the proposed new deal British fishermen will have a larger take of the catch.
A key part of the Brexit campaign was for the UK to "take back control" of its waters.
It became a major obstacle during the oft tense negotiations for the UK to leave the EU by the end of the year with a deal.
Although fishing is a tiny part of the UK and EU economies it has become a symbolic fight between Britain and France.
French trawlers are dependent on catching fish in British waters.
A British Government spokesman said:
"We're not commenting on ongoing negotiations, but our position on fisheries has been clear from the start.
"We are asking for a simple, separate fisheries framework agreement which reflects our rights under international law, and which provides for annual negotiations over access and sharing opportunities based on the scientific principle of zonal attachment."