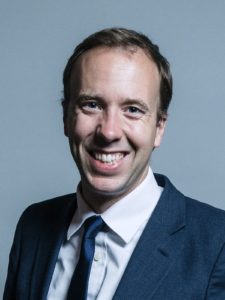 Health Secretary Matt Hancock is at the centre of a leak inquiry after the Prime Minister was forced to announce a national lockdown two days earlier than predicted.
Mr Hancock was one of four senior Government ministers at a meeting to discuss lockdown: Boris Johnson, Michael Gove, and Rishi Sunak.
Details of the meeting were later leaked to the national newspapers and television broadcasters.
The move forced Mr Johnson to bring forward his announcement.
Sources in Whitehall are pointing an accusing finger at Mr Hancock.
It's claimed he wanted to make sure the PM could not change his mind after making the national lockdown decision.
Downing Street has launched a formal inquiry.
A senior Government source told The Mail on Sunday:
"There were four people in that meeting, plus trusted officials who never, ever betray confidences.
"You have to ask who would benefit from getting it all out there before the boss has the chance to row back."
Mr Hancock has always argued for the protection of the NHS over the state of the economy.
Others have accused Mr Gove of being the source.
Both ministers have strongly denied the accusations.
In a WhatsApp message to his MPs Mr Johnson wrote:
"Folks – so sorry that you've had to hear about all this from the newspapers today.
"Let me assure you that the leak was not a No 10 briefing and indeed we have launched an inquiry to catch the culprit.
"I had hoped to make the announcement in Parliament on Monday but to avoid any further uncertainty I'll now do a press conference from Downing Street this evening."