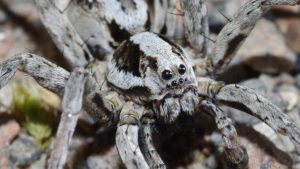 Britain's largest spider – feared extinct – has been seen for the first time in 25 years.
The Great Fox-spider can measure as much as two inches across.
It's a member of the wolf-spider Lycosidae family.
The last time one was spotted was in the early 1990s on an MoD training site in Surrey.
Mike Waite, from the Surrey Wildlife Trust, "rediscovered" the spider after a two-year search at the disused camp.
He said: "This formidable-looking creature is an impressive beast, perfectly camouflaged and largely nocturnal.
"For all its size it has been remarkably elusive."
Under torchlight Mr Waite found some unidentifiable baby spiderlings.
Further looking revealed several males and one female great-fox spider.