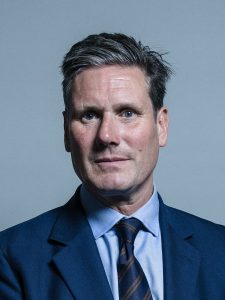 Labour leader Sir Keir Starmer does not want a "civil war" in his party following the suspension of Jeremy Corbyn.
However, Sir Keir has not ruled out his predecessor being expelled from Labour.
Supporters of Mr Corbyn have come to his defence after a damning report about anti-Semitism during his time as leader.
The Equality and Human Rights Commission (EHRC) found the party was responsible for unlawful acts of harassment and discrimination.
Mr Corbyn was quick to reject the EHRC findings.
He said the issue had been "dramatically overstated for political reasons".
His comments saw him suspended and the whip removed.
Sir Keir said:
"I don't want a civil war in the Labour Party, I don't think there is any need for one."
He added that it was not his decision to make, but Mr Corbyn could be expelled from the party.
He told the BBC Radio 4 Today programme:
"Yes, people have been expelled from the Labour Party.
"It's not for me to say what process should be followed or what sanction is in order."
Sir Keir said Mr Corbyn's decision not to accept the EHRC report in full "just adds to that pain" felt by "Jewish communities and Jewish members".
However, Unite union boss Len McCluskey has called Mr Corbyn's suspension an "act of grave injustice".
He said it could "create chaos within the party" – putting future election victory at risk.
Ex-shadow chancellor John McDonnell described the suspension as "profoundly wrong".
Momentum – the campaign group that swept Mr Corbyn to the Labour leadership – said:
"The suspension of Jeremy Corbyn by the Labour Party leadership is a naked attack on the left that undermines the fight against anti-Semitism and makes a mockery of Keir Starmer's pledge to unite the party."