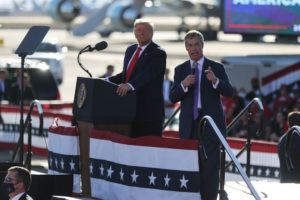 Former UKIP leader Nigel Farage has been "lauded" by Donald Trump as one of Europe's "most powerful men".
The President praised Mr Farage at a campaign rally in Phoenix, Arizona.
Mr Trump – tongue in cheek – said the British politician was a "very non-controversial person – and shy".
Mr Farage shouted back "I am compared to you".
He added:
"I have got to say four years ago I was honoured to come to America to bring the Brexit message, the message that you can beat the establishment.
"That is what Donald Trump did: he beat the pollsters, beat the media and beat all the predictions and the worst thing is they have never forgiven him for it.
"Four years of the Russia hoax, four years of false impeachment, most human beings under that barrage would have given up.
"This is the single most resilient and bravest person I have ever met in my life.
"And when you vote next week you are not just voting for who the president of the United States of America you are voting for the leader of the free world."
Mr Farage could attend the rally during lockdown after he was granted "national interest" exemption from the US travel ban.
However, some politicians in Britain are concerned the former Brexit Party leader was "interfering" in American politics.