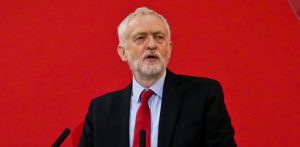 Former Labour leader Jeremy Corbyn has been suspended by his party over his comments about a report into anti-Semitism.
His exclusion follows damning findings by the Equality and Human Rights Commission (EHRC).
Mr Corbyn said the allegations of anti-Jewish racism while he was leader had been "dramatically overstated" by political opponents.
A spokesperson for Labour said:
"In light of his comments made today and his failure to retract them subsequently, the Labour Party has suspended Jeremy Corbyn pending investigation.
"He has also had the whip removed from the Parliamentary Labour Party."
Mr Corbyn said he would contest the decision to bar him.
Sir Keir Starmer, who succeeded Mr Corbyn, apologised for his party's behaviour in how it dealt with anti-Jewish sentiments amongst its ranks.
He said the report was a "day of shame".
He added he would accept accepted the EHRC's report "in full" and would implement all its recommendations.
Sir Keir said: "It is a day of shame for the Labour Party.
"We have failed Jewish people.
"I am truly sorry for all the pain and grief that has been caused.
"Never again will we fail to tackle anti-Semitism and never again will we lose your trust."
Mr Corbyn posted to Twitter:
"I've made absolutely clear those who deny there has been an anti-semitism problem in the Labour Party are wrong."