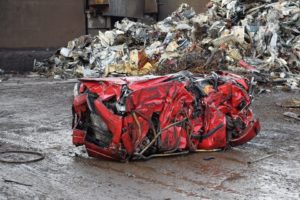 Police are clamping down on uninsured motor vehicles.
A joint campaign between law enforcement agencies and insurers has seen hundreds of motors seized and some crushed.
Operation Drive Insured involves all 43 UK police forces.
More than 130 people are killed each year in crashes involving uninsured drivers.
A further 26,000 others are injured – many seriously.
The insurance industry pays out more than £320 million to victims.
And the Department of Transport reckons the collisions cost the economy a further £2 billion in emergency services, medical care, and productivity loss.
The Motor Insurers' Bureau (MIB) said uninsured drivers are more likely to be involved in hit-and-run incidents.
Also, driving a stolen vehicle, driving while disqualified and drink/drug driving, were also key factors.
Anna Fleming, chief operating officer at MIB, said:
"We've made great strides in getting more people to drive insured in recent years, but the sad reality is with Covid-19 putting so many people under financial strain, uninsured driving levels could creep up.
"Many people will see uninsured driving as a victimless crime at best, or as only impacting on the profits of large insurance companies at worst.
"This is not the case.
"We know from our work in roads policing that uninsured drivers are statistically significantly more likely to cause a death or injury on the road, which brings devastation to victims, families and communities up and down the country."
Last year, 137,410 vehicles were seized because they were being driven without insurance.
The owners must pay to recover them or face the prospect of the vehicle being crushed.