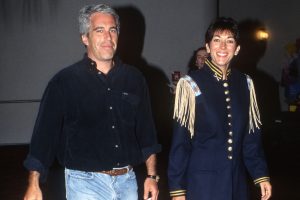 Ghislaine Maxwell and the late Jeffrey Epstein
Prince Andrew asked his former girlfriend Ghislaine Maxwell for information about a woman who claimed she was forced to sleep with him, court papers indicate.
The deposition by Maxwell relates to her relationship with the late sex offender Jeffrey Epstein.
The statement was made in 2016 during a civil action brought by Virginia Giuffre – then called Virginia Roberts.
Ms Giuffre claims – when aged 17 – she was forced to sleep with the Prince during a visit to London.
The Prince denies the allegation.
Maxwell had denied Ms Giuffre's claims in 2015.
In her deposition she confirmed she sent an email stating:
"Have some info. Call me when you have a moment."
Although the recipient's name is reacted, the subject matter and timing imply it was Prince Andrew.
Giuffre's lawyer had asked Maxwell: "What did you discuss on that call?".
She replied: "I don't have any specific knowledge of that call.
"Were you discussing with [redacted] the subject of Virginia Roberts [Giuffre] during these calls?"
Giuffre's attorney pointed to an email in this exchange, noting:
"He says let me know when we can talk.
"Got some specific questions to ask you about Virginia Roberts."
Maxwell admitted they did speak "at some point".
Asked what they talked about, Maxwell said: "Just what a liar she is."