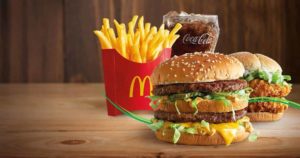 McDonald's is giving one million free meals to families during the school half term.
The fast-food chain has signed up to a campaign headed by Manchester United forward Marcus Rashford, MBE.
McDonald's will supply funding to FareShare to give food to families who need it most.
Rashford has already helped raise £20 million for FairShare – a charity looking to end food poverty in Britain.
The footballer has been trying to force the Government to feed school children over next week's half-term.
But MPs rejected the motion in the Commons.
Rashford has asked the Government to reconsider its decision.
He said after the vote:
"A significant number of children are going to bed tonight not only hungry but feeling like they do not matter."
McDonalds announced its involvement in a tweet:
"We are proud to announce a partnership with @FareShareUK to provide 1 million meals for families in need.
"Our funding will enable the urgent redistribution of meals across the next couple of weeks to those in greatest need."
Paul Pomroy, CEO of McDonald's for UK & Ireland, said:
"As a business we are committed to supporting and serving the communities in which we operate.
"In these challenging times, we know it's more important than ever to support those most in need."
Lindsay Boswell, FareShare CEO added:
"McDonalds is showing real leadership in supporting the most vulnerable in society to get access to healthy food at this critical time.
"The funding will enable the equivalent of 1 million meals to be redistributed to our charity network very swiftly, and we are very grateful for their urgent support."