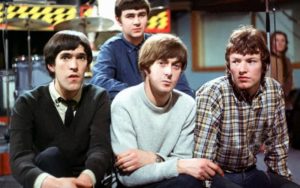 Spencer Davis (centre)
Spencer Davis – a powerhouse of sixties pop music – has died. He was aged 81.
Many fellow musicians saw Davis as an influential elder statesman of British rock.
The former teacher formed The Spencer Davis Group with brothers Steve and Muff Winwood and drummer Pete York.
The band topped the charts twice with "Keep On Running" and "Somebody Help Me" in 1965 and 66.
There was also chart success with "Gimme Some Lovin'" and "I'm A Man".
More than 50 years later their hits are played daily on radio stations – also providing the soundtrack for films and commercials.
Davis died from a heart attack in California.
He was born in Wales.
He was studying at Birmingham University when he met local lads, the Winwood brothers.
Steve – just 15-years-old when he joined – was a precosiously multi-talented musician with a voice to match.
He also co-wrote some of the the band's biggest hits.
When he left in 1967 to join Traffic – and later the "super-group" Blind Faith – Davis' band was sorely depleted.
He tried to find a new singer but Winwood was irreplaceable, not only as a singer but musician too.
Not even Elton John could fill the gap.
After auditioning the then Reg Dwight, Davis said:
"It was 1967, but while I liked his song writing, I didn't think he was right for us."
Bob Birk , Davis' agent, said:
"Spencer was a very good friend
"He was a highly ethical, very talented, good-hearted, extremely intelligent, generous man.
"He will be missed."
Davis is survived by his partner June and three adult children.
YouTube