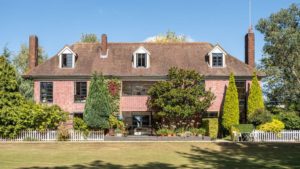 The house used to film The Big Breakfast has gone on the market for £5.7 million.
The six-bedroom home – three lock keepers cottages knocked into one – is in East London.
It is ranged over three floors and has a large garden with swimming pool.
The property was converted into one building for the Channel 4 breakfast show.
The programme – fronted in its time by Chris Evans, Gaby Roslin, Johnny Vaughn and Denise Van Outen and others – was axed in 2002 after a ten-year run.
A fire later ripped through the building on Fish Island in Bow.
The Big Breakfast was an innovative live programme that brought a distinctive approach to early morning viewing.
It was a mixture of serious news wrapped with light-hearted moments.
The news was read by Phil Gayle.
At its zenith, The Big Breakfast reached two million viewers – the highest rated early morning show.
The property is on Rightmove.