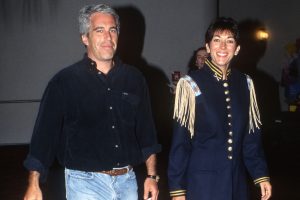 Epstein and Ghislaine Maxwell
Ghislaine Maxwell has lost her legal fight to keep intimate details about her personal life private.
The federal appeal court upheld a decision taken by a lower court that the testimony should be allowed to be heard.
The documents come from a deposition she gave in 2016 as part of a civil defamation case.
Ms Maxwell, 58, is currently held in a Brooklyn prison on charges she helped disgraced paedophile Jeffery Epstein find underage for sex.
She denies the allegations.
Epstein later killed himself in prison.
Ms Maxwell, the daughter of robber baron Robert Maxwell, said publishing the testimony would jeopardise her own defence.
Virginia Roberts Giuffre claims she was forced by Epstein to sleep with Prince Andrew – a former boyfriend of Maxwell – when she was aged 17.
The Prince strenuously denies the allegation.
The appeal court dismissed as "meritless" Maxwell's argument that her interests should supersede the principle of public access to the documents.