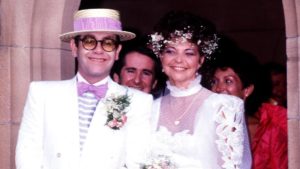 Sir Elton John and his former wife Renate have settled a legal row over the singer's autobiography.
Ms Blauel claimed damages after alleging the book "Me" – and Oscar winning film "Rocketman" – broke the terms of their divorce deal.
It was said the couple had agreed after splitting not to talk about their marriage in public.
Ms Blauel asked for £3 million in damages as well as an injunction preventing further confidential information being revealed.
After the High Court hearing the couple released a statement.
It said: "The parties are happy to announce that they have resolved this case, in a way that acknowledges Renate's need for privacy.
"For her part, Renate acknowledges that Elton has acted in a dignified and respectful way towards her in the last 30 years and has been always happy to help her.
"They will not be discussing each other, or their marriage, in future and will be making no further comment about the case."
Ms Blauel lawyers argued Sir Elton's book and the film  made "repeated and flagrant" breaches of the divorce terms.
Sir Elton's legal team claimed the film and book only covered incidents already public knowledge.