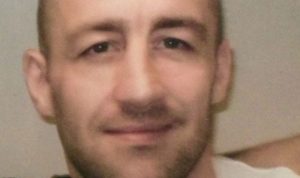 Convicted killer Steven Gallant has been given a Queen's Pardon after he stopped a terrorist on London Bridge.
Gallant fought armed knifeman Usman Khan with a Narwhal tusk before dragging him to the floor.
Khan – who had just murdered two students – was shot dead by the police after exposing a suicide belt.
It proved to be fake.
Gallant, 42, was serving a 17-year sentence for killing a firefighter in a pub brawl in Hull.
He will have 10-months taken off his sentence and can expect to be freed after a parole board hearing in June.
The Ministry of Justice confirmed the order, issued by Lord Chancellor Robert Buckland QC on behalf of the Queen.
The spokesperson said: "The Lord Chancellor has granted Steven Gallant a Royal Prerogative of Mercy reducing his minimum tariff of 10 months in recognition of his exceptionally brave actions at Fishmongers' Hall, which helped save people's lives despite the tremendous risk to his own."
Gallant's lawyer Neil Hudgell said:
"Steve feels a debt of gratitude to all those who helped him to achieve a Royal Prerogative of Mercy.
"He is passionate about using his knowledge and experiences to help others steer away from crime."
Gallant was on day release to attend a rehabilitation course in Fishmongers' Hall at London Bridge.
Convicted terrorist Khan – also on the course – attacked two Cambridge graduates.
He killed them both before fleeing across the bridge.
At the time Gallant said:
"I could tell something was wrong and had to help.
"I saw injured people.
"Khan was stood in the foyer with two large knives in his hands.
"He was a clear danger to all."