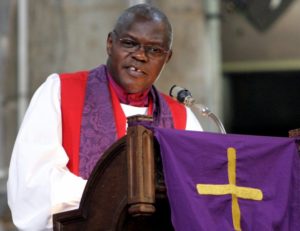 John Sentamu is to be made a life peer "imminently" after protests Britain's first black archbishop was not automatically sent to the Lords.
The former Archbisop of York was expected to be given the honour after retiring last June.
Despite other retiring archbishops taking a seat in the Lords, Mr Sentamu was denied the award.
The Government was accused of "institutional prejudice" by ignoring Mr Sentamu, 71.
Number 10 claimed it was trying to reduce numbers in the Lords.
Yet, Prime Minister Boris Johnson found room for his own brother Jo to become a Lord.
Downing Street has said Mr Sentamu's peerage is now "imminent".
Officials claimed the delay was down to a hold up with the House of Lords Appointments Commission.
Shadow justice secretary David Lammy MP said the decision showed "blatant institutional prejudice".
He tweeted: "No 10 broke a precedent and snubbed Britain's first black archbishop for a peerage because it says the House of Lords is too large, but it made room for Ian Botham, Claire Fox and Theresa May's husband. Blatant institutional prejudice."
David Davis, the former Conservative cabinet minister, said it was "a mistake" not ennobling Mr Sentamu.
He said: "He was a great archbishop.
"It cannot claim it needs to limit the size of the Lords whilst elevating Boris's brother.
"It should be put right immediately."