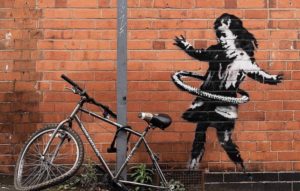 Picture: Instagram
Street artist Banksy has painted a mural of a hula-hoop girl on a wall in Nottingham.
The work appeared on the corner of Rothesay Avenue in Lenton.
It's in black and white and shows the girl using a bike tyre as a hula-hoop.
Chained to a lamppost is a bike – with a tyre missing.
Both works appeared at the same time.
Surinder Kaur, 42, who runs the beauty salon next to the artwork, said:
"Everyone is very excited and many, many people are coming to see the picture.
"Everyone was confused about whether it was real or not real but it's an amazing picture, it's amazing art."
Antonia Gardner, 48, said:
"Lately we've been in the news for the wrong reasons – we have the highest coronavirus rates in the country.
"Having the Banksy confirmed as genuine has given us a much-needed boost – it's amazing for our city to be part of Banksy's canon of work."
Nottingham City Council has taken steps to protect the artwork.
A sheet of clear plastic has been put over the mural.