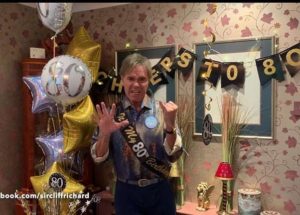 Picture: Book.com Sir Cliff Richard
Congratulations! Sir Cliff Richard celebrated his 80th birthday – but was only allowed five guests.
The singer was planning to mark the milestone with a series of concerts for his fans.
But the Covid-19 pandemic ended that idea.
In a video party film Sir Cliff holds up six fingers – a clear sign that he could only have a handful of friends join him.
The film, said to have been recorded at his home, Sir Cliff is surrounded by balloons and bunting.
He said: "Hi everybody.
"I have to say it's really nice to be here to be back in the UK to be celebrating my 80th birthday but remember it's just a number.
"I was planning to celebrate with 20,000 people spread over four days at the Royal Albert Hall.
"But Covid-19 came and, of course, I've had to whittle those numbers down somewhat, so I've got to six.
"Anyway, it's been fantastic looking forward to my birthday and I'm seeing friends, socially-distanced of course."
Sir Cliff said he'd spent lockdown recording an audio version of his autobiography.