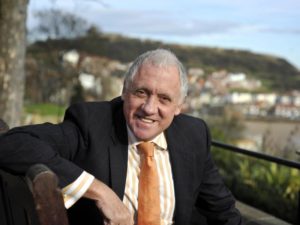 BBC regional television "legend" Harry Gration is to retire after more than 40 years.
Gration is a Yorkshire institution having presented the BBC's Look North news for 38 years.
He started filing rugby league reports during the mid-70s while working as a teacher.
During his time, he covered nine Olympic Games for the broadcaster.
Gration, 69, also won two Royal Television Society (RTS) awards for sporting documentaries.
And he won two RTS awards for best regional presenter.
Gration said:
"For the past four decades, it's been a privilege to meet the people of the county I love.
"Make no mistake, these good folk are the heartbeat of the programme.
"I've interviewed every Prime Minister since Margaret Thatcher, covered every major Look North story even at the expense of my holidays, and I wouldn't have changed a thing.
"I've always lived the story.
"Horrendous events such as the devastating news of Jo Cox's death, the disastrous floods of recent times, the Bradford riots, Hillsborough, have always affected me.
"They were always an assault on my county."
Helen Thomas, director of BBC England, said it would be an understatement to call Gration a broadcasting legend:
She said:
"Over the past 40 years he has been a constant and reassuring presence on our screens.
"It is testament to his skill that he has been as much at home interviewing the people of Yorkshire as he has Prime Ministers and royalty.
"Despite his extraordinary tenure, Harry never lost his passion for news, particularly regional news, and that shined through every evening."