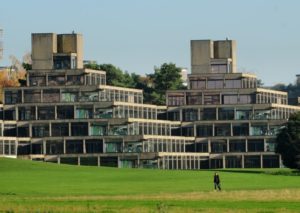 University of East Anglia
Three students have each been fined £10,000 after holding a party for a hundred people.
They were handed fixed penalty notices after the police were called to the house in Norwich on Saturday.
At the time, coronavirus laws only allowed gatherings of fewer than 30 people.
The girls are at the University of East Anglia.
They could now face internal discipline.
A University of East Anglia spokesperson said:
"We fully support the actions of the police.
"Students, like everyone else, have to adhere to the law and where there is a breach of the rules, they should expect to face the same consequences as others in the community.
"We have issued regular reminders about following the rules to all students both on and off campus and in addition to the police action we will also be looking into this matter and taking appropriate action.
"In the vast majority of cases our students are behaving responsibly."
Norfolk Police were tipped off about the party at the address at 1.10am.
A spokesman said: "Officers found up to 100 people attending a party.
"Officers dispersed the gathering and three occupants at the address –  a 19-year-old woman and two 20-year-old women –  were issued with the fixed penalty notice for contravening the ban on being involved in holding a gathering of more than 30 people."