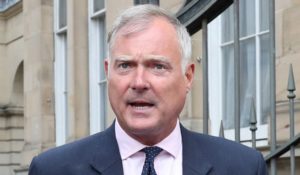 Former Blue Peter presenter John Leslie "laughed" after groping a woman's breasts at a party, a court heard.
The star had never met the woman as he arrived at a celebrity bash in West London.
The former host of This Morning and Wheel of Fortune is accused of grabbing the woman's breast when she introduced herself to him.
It was "as if what he had done was completely acceptable" the court was told.
Leslie, 55, denied the charges at Southwark Crown Court.
Jocelyn Ledward, for the Crown, said:
"This case concerns an allegation of sexual assault back in 2008, when the defendant attended a party at a nightclub in London.
"Shortly after he arrived, he grabbed the breasts of the young woman who had just introduced herself."
Ms Ledward said the alleged victim "was stunned and spoke to people about it at the time".
However, she had only come forward to police in 2017 after being spurred on by the #MeToo movement.
Jurors were told Leslie's fellow Blue Peter presenters Yvette Fielding, Diane-Louise Jordan, and Anthea Turner, as well as This Morning co-host Fern Britton, may be called to given evidence.
Ms Ledward said the alleged victim recognised Leslie and went to introduce herself.
"She shook his hand as she explained who she was, he smiled back and without saying anything further grabbed both of her breasts with both of his hands and laughed, looking directly at her as he did so.
"This was clearly not an accident but a quite deliberate sexual assault."
The woman says the incident lasted around three seconds, before Leslie "laughed again and then walked off as if what he had done was completely acceptable and no one was going to challenge him."
The former TV star – full name John Leslie Stott –  denies one charge of sexual assault.
The trial continues.