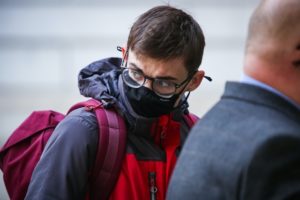 Benjamin Clark arriving at court
 A teenage Extinction Rebellion activist has been ordered to pay £1,519 after daubing "racist" on a statue of Winston Churchill.
Benjamin Clark 18 sprayed yellow chalk paint on the base of the monument in Parliament Square, London.
He received death threats after he was charged with criminal damage.
And a group of protesters turned up at Westminster Magistrates' Court to barrack and heckle the first-year student.
Clark pleaded guilty and was given a £200 fine.
He was also ordered to pay £1,200 compensation and £119 in costs and court fees.
Deputy Chief Magistrate Tan Ikram said:
"You have caused great offence, it appears, to a lot of people and I'm told it has provoked a very strong reaction.
"The reality is that is part of the consequences of your actions.
"Tourists from across the world come here and see the beauty of London, and people like you choose to deface London.
"In doing so, you caused great expense to people who pay taxes.
"You offended every person who has to pay for the upkeep of these statues."
Clark was arrested on September 10th at an Extinction Rebellion protest in Parliament Square.
He was seen by the police to spray-paint "is a racist" on to the statue's concrete base.
Laura O'Brien, mitigating, said Clark had made a "momentary poor decision".
She said he'd attended the rally because his views on climate change.
Ms O'Brien said: "This case is not about Winston Churchill, nor is it about the motivation for using that word.
"I could embark on a discussion of why the word 'racist' was painted on the base of the statue.
"It was a communication of a view held by Mr Clark, but we are in danger of making this case about Winston Churchill."
Ms O'Brien said people had tried to film Clark at court and shouted abuse at him and his father.
"It is really quite unpleasant", she said, asking for his family home address not to be said aloud in court.
Clark, from Hertford, Herts, was told to pay the £1519 bill at a rate of £50 a month.
His father, a Baptist church minister, has insisted that his family will not help his son to settle his court debt.