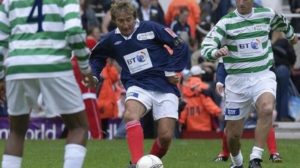 Sir Rod Stewart is to have further surgery only months after a knee replacement.
The singer needs to have his ankle fused.
He blames the recurring problem on playing too much football on "bone dry" pitches in Los Angeles.
Sir Rod, 75, told The Mirror:
"I played football all my life and I am suffering for it now.
"First of all, it was my knee.
"That was fixed with a replacement and then the ankle did not know what was going on.
"It was crooked.
"So, I have had to have an ankle fusion.
"When this is all done, I should have a nice straight leg and I should be able to run.
"My leg has been caused by playing on awful pitches in Los Angeles.
"They are bone dry."
Football mad Sir Rod had the knee operation last January.