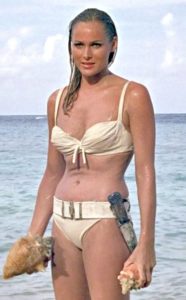 The bikini worn by Ursula Andress in "Dr No" is up for auction.
The ivory-coloured costume is expected to sell for more than £360,000.
Ms Andress played beachcomber Honey Ryder in the 1962 film – the first Bond outing on the big screen.
She is seen emerging from the sea dripping wet.
She's holding a seashell and has a scabbard belted to her hips.
The iconic scene made the Swiss born actress the first "Bond girl".
Brian Chanes, at auctioneers Profiles in History, said:
"It is regarded as the most famous bikini in the world.
"It's one of the most memorable scenes in the entire Bond franchise.
"It helped bikinis become more mainstream and it started the whole Bond girl phenomenon.
"Things from the Bond franchise are relatively rare especially the further you go back in time."
Bids are expected from round the world.
Mr Chanes added:
"With Bond especially it's very much an international crowd."
The online auction is in Los Angeles on November 12th.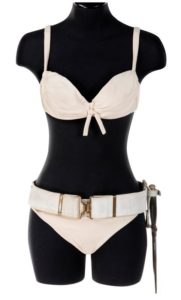 Picture: Profiles in History