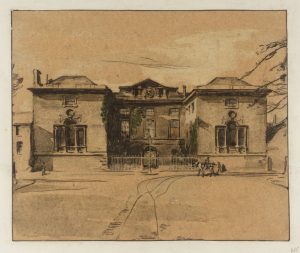 Worcester College, Oxford by Sir William Nicholson
The BBC is to take on fewer people with Oxbridge degrees.
It is also looking at its intake of people educated at private schools.
The move is part of the broadcaster's overhaul of its recruitment process.
It is often joked that at the BBC you're "never more than six feet away from an Oxbridge graduate."
Tim Davie, the recently appointed BBC director-general said:
"It can't be that we just take people from a certain academic track.
"I get a sense in our research that there are certain people who don't connect with us.
"That's about [being] out of London, it's about programming choices, who speaks for us, who we put up in the newsroom.
"All those things need modernising to represent what is a more diverse Britain."
He added:
"I have lit a fire on this.
"We won't recruit in the same way.
"And we need to look more broadly across the UK so that everyone says, 'The BBC is for me,' and, 'My views are represented.'"
Mr Davie was himself educated at the independent Whitgift School and Selwyn College, Cambridge.
In the last 50 years the BBC has appointed ten directors-general – five went to Oxford and two to Cambridge.
June Sarpong, the BBC's director of creative diversity, said this week that the BBC had "serious issues in terms of our connection" with white, working class audiences.