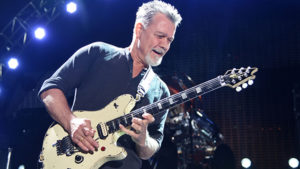 Guitar great Eddie Van Halen has died. He was aged 65.
Eddie has had a "long and arduous battle" with throat cancer, his son Wolf has said.
In a statement he added:
"I can't believe I'm having to write this, but my father, Edward Lodewijk Van Halen, has lost his long and arduous battle with cancer this morning.
"He was the best father I could ever ask for.
Every moment I've shared with him on and off stage was a gift.
"My heart is broken, and I don't think I'll ever fully recover from this loss.
"I love you so much, Pop."
He Van Halen family arrived in America from Holland in the mid-60s.
Van Halen formed his band of the same name in California in 1972.
David Lee Roth was the singer; his brother Alex Van Halen was on drums and Michael Anthony on bass.
Eddie Van Halen was an absolute master of his instrument – often featuring in the top five of greatest guitarists of all time.
The band's best-known hit was "Jump" with its signature keyboard line.
Van Halen was diagnosed with tongue cancer in 2000.
He said it was caused by the metal guitar picks he held in the same place in his mouth.
YouTube: Official video Van Halen