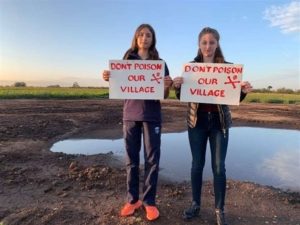 Villagers' feathers have been ruffled after a chicken farmer plans to build four super-sheds to rear millions of birds.
The buildings will go up in the Vale of Belvoir – a beauty spot overlooked by Belvoir Castle in Nottinghamshire.
The chicken farmer already has eight similar super-sheds near the site.
Protesters have asked for more time to fight the planning application.
They say they've been unable to meet and mobilise efforts because of Covid-19 restrictions.
The villages affected are Thoroton, Orston, Aslockton, Hawksworth and Screveton.
There is concern over the massed farming process, the smell, increased traffic along rural roads, and the effect on wildlife.
There are also worries about public health.
One resident, Christine Williams, said:
"The coronavirus pandemic started in animals and avian flu is sadly common among chickens.
"We do not need this threat on our doorstep.
"We fear this would be an avian flu or another coronavirus waiting to happen if it goes ahead.
"Mega farms are something that Parliament and the Environment Agency really need to get a handle on.
"A defence needs to be based upon hard data and we don't have the time to compile that.
"That's why we're asking for an extension.
"What is being asked for is another four chicken sheds which, if built, will extend the existing mega chicken farm from eight to 12 sheds."
It's estimated more than five million chickens will be processed a year.
Mrs Williams added: "This type of farming has catastrophic impacts for people and the local environment."
The application has been made by Richard Ogden of Smith Farms Ltd.
Ian Pick, agent for the application, dismissed the claim that chickens spread diseases to humans.
He said: "There is no scientific basis for any objection on those grounds.
"It is not something recognised as a potential issue in policy.
"It's just propaganda and something we are encountering more and more."
Mr Pick added:
"There is an enormous demand for chicken in this country and we react to the requirement of the British public.
"Ninety-four per cent of chickens in the UK comes from intensive farming systems ­— only 6% is organic and free range.
"The demand for healthy white meat just goes up, up and up."
Mr Pick said the units are built to "Red Tractor" standards with climate control and windows letting in natural light.
"The UK standards are far better than the rest of the world, better than the EU standard."
The planning application has been lodged with Rushcliffe Borough Council.