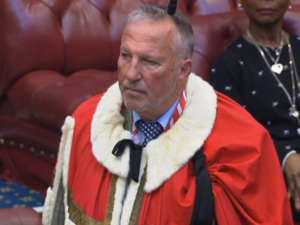 England cricket legend Ian Botham has returned to Lords – but this time to take his seat in the upper house.
Lord Botham was formally introduced the House of Lords.
Wearing the traditional scarlet and ermine-trimmed robe, he swore his allegiance to the Queen.
However, the ceremony was delayed because "rain had stopped play".
Technical problems hampered the start of the proceedings.
It prompted Lord Speaker Lord Fowler to tell peers:
"It means at the moment no words can be heard outside the House, which is a slight disadvantage."
"I think rain has stopped play just for the moment."
Lord Botham – supported by Tory peer Lord Price and former Lord Chief Justice of England and Wales Lord Judge – will sit as an independent crossbencher.
The clerk referred to him as Baron Botham of Ravensworth, his home village, however he will be known as Lord Botham.
Lord Botham told the chamber:
"I, Ian Lord Botham, do swear by almighty God that I will be faithful and bear true allegiance to Her Majesty Queen Elizabeth, her heirs and her successors, according to the law. So, help me God."
He will sit as a non-party political crossbench peer.
Lord Botham – one of cricket's greatest players – was nominated by the Prime Minister Boris Johnson.
Lord Botham was an ardent and vociferous Brexiteer.
His name – I T Botham – appears on the prestigious Honours' Board at Lords.
At the London ground in 1978 he scored a swashbuckling 108 off 110 balls against Pakistan.
He then routed the tourists with his bowling – taking 8-34 in their second innings.
Former England cricketer Ian Botham has just been sworn into the House of Lords.

What are your thoughts? pic.twitter.com/hGHjXIy7Ae

— talkRADIO (@talkRADIO) October 5, 2020