MP wife of jailed sex pest Tory paid £25,000 by tabloid for 12 hours' work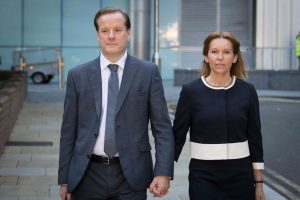 Charlie Elphicke and wife Natalie
Conservative MP Natalie Elphicke was paid £25,000 by a tabloid newspaper to speak about her jailed sex-pest husband.
Charlie Elphicke, a former MP, was given two years after being found guilty of sexual assault.
He chased one victim around a room singing "I'm a naughty Tory, I'm a naughty Tory".
Ms Elphicke announced she was leaving her husband moments after the Crown Court verdict.
In the article for The Sun she said the case had been "really unpleasant, horrible, upsetting and humiliating".
She added: "It was just awful."
The Spectator magazine revealed Ms Elphicke – who took over her former husband's Dover seat – was paid £25,000 by News UK for  "two newspaper articles" and 12 hours' work.
Ms Elphicke said: "These payments have been promptly and transparently declared on the Members Register of Interests, as is rightly required of all MPs."
Charlie Elphicke was MP for Dover between 2010 and 2019.