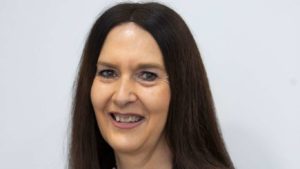 SNP leader Nicola Sturgeon has told errant MP Margaret Ferrier to stand down after breaking the Covid-19 rules.
The MP travelled by train between Glasgow and Westminster after testing positive for coronavirus.
After a conversation between the two politicians, Ms Sturgeon said:
"I made clear my view she should step down".
Ms Ferrier, 60, has already had the SNP whip withdrawn.
The MP confirmed she was tested on Saturday after feeling unwell.
But instead of going into self-isolation she took a train on Monday to London.
At 19.15 she gave a four-minutes' long speech in the House of Commons during a coronavirus debate.
The same evening Ms Ferrier was told her test was positive.
Despite that she caught the return train to Glasgow.
Ms Sturgeon tweeted:
"I've spoken to Margaret Ferrier and made clear my view that she should step down as an MP.
"I did so with a heavy heart – she is a friend & colleague – but her actions were dangerous and indefensible.
"I have no power to force an MP to resign but I hope she will do the right thing."
SNP Westminster leader Ian Blackford said Ms Ferrier's position was untenable following the "tremendous error of judgment".
He said the MP must "reflect on the circumstances that she is now in" and "do the right thing for her constituents".
He added: "I would say to her that her position isn't tenable, given the circumstances that we're in, and she has to accept her own responsibilities of what she must do.
"I can't force that upon her, she is no longer an SNP MP.
"I'm pretty angry at what has happened, it is not acceptable.
"It's important that it is beyond reproach that everybody, absolutely everybody, must obey the rules and we have to think about the signal that gives the public and the sacrifices that people are having to make, and it's in the light of that that Margaret will have to do the right thing."
Ms Ferrier, MP for Rutherglen and Hamilton West, apologised for her actions, saying there was "no excuse".
She reported herself to Police Scotland and officers are "looking into the circumstances" alongside the Metropolitan Police.
Ms Ferrier faces a £4,000 fine for a first-time offence of meeting others when she should have been self-isolating.
Scottish Conservative leader Douglas Ross called Ms Ferrier's decision to travel as "reckless and dangerous".
He added: "No-one can take what she says with any credibility because she has flouted the rules at every opportunity when she first became aware of the symptoms."