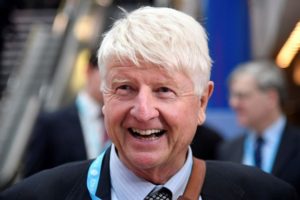 Boris Johnson's father has apologised after being caught shopping without a face mask.
Stanley Johnson said he was "extremely sorry" after a picture emerged of him at a newsagents with no covering.
Mr Johnson told the Mirror he might not be "100 per cent up to speed" on the current rules.
He said he'd just returned to the UK after three weeks abroad.
He added: "I'm extremely sorry for the slip up and I would urge absolutely everybody to do everything they can to make sure they do follow the rules about masks and social distancing.
"The fact this was my first day back in the UK after three weeks abroad is, I am sure, no excuse for not knowing the rules."
Earlier the Prime Minister asked the public to follow the coronavirus rules – particularly wearing masks.
Face coverings have been compulsory in shops and public transport since July 24th.
That guidance was later extended to hospitality venues, theatres, restaurants, bars, and pubs
At the introduction Boris Johnson said:
"Bear in mind that the fines are now very considerable, and they will be imposed," he said.