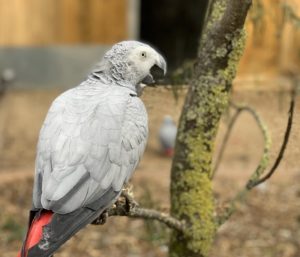 Picture: Lincolnshire Wildlife Park. Tyson
Five parrots have been removed from a zoo display after they swore at visitors.
The African Greys let out a stream of obscenities whenever people looked at them.
And the more visitors laughed – or recoiled in horror – the more the birds swore.
The parrots had been taken in by the Lincolnshire Wildlife Park in Friskney.
While they were in quarantine one of them – already well versed in bad language – taught the others to swear.
The zoo staff only realised what had happened when the birds were put on show.
Within 20 minutes they were rudely telling visitors where to go.
Steve Nichols, CEO at the Lincolnshire Wildlife Park, said:
"Many parrots sometimes have a bit of blue language.
"Every now and then you'll get one that swears and it's always funny.
"The more they swear the more you usually laugh which then triggers them to swear again.
"We found it highly amusing and the customers were fine – they were no problem at all.
"But we were worried because we had a weekend coming up and children coming."
The Greys have now been split up and placed with other parrots to behave properly.