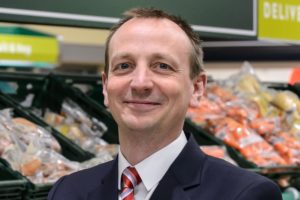 Giles Hurley, Aldi  CEO UK
Supermarket chain Aldi is to open 100 new stores in the next 12 months.
More than 4,000 jobs will be created.
The German based chain said it's part of a £1.3 billion two-year pledge.
The company will also expand its click & collect trial throughout Britain.
Alongside the new stores a further 100 will be refurbished.
Giles Hurley, chief executive officer for Aldi UK and Ireland, said sales have gone up 8.3% since January.
He thanked the Aldi team for its "heroic" work during the pandemic.
Mr Hurley said:
"We've seen before that our customers need us most in times of financial hardship, which is why our commitment to remain Britain's lowest-priced supermarket is more important than ever.
"The response to the challenge presented by the Covid-19 pandemic was both heroic and historic.
"As ever, our 36,000 colleagues and thousands of suppliers rose to the challenge of feeding the nation with tremendous skill and courage, whilst the British public displayed remarkable patience and compassion."