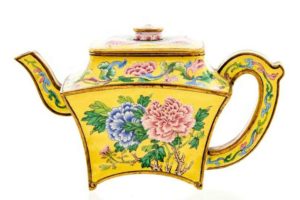 Picture: Hansons Auctioneers
A Chinese "teapot" found during a lockdown garage clean out has been sold for £390,000.
The pot – just five inches tall – was estimated to go for £40,000.
However, bidders from around the world pushed up the price to its dizzy heights.
The owner, a builder from Newhall in Derbyshire, said:
"I'm thrilled.
"This will change a few things for us all.
"It's come at a really good time.
"I sat and watched the auction live at home with my brother and family.
"It was tense.
"The teapot has been in my family as long as I can remember.
"My mum used to display it in a cabinet."
After her death it was boxed up and put in the garage.
The owner said:
"We'd been thinking of sending everything to a charity shop.
"But then lockdown came along, and I finally had time to go through the boxes in the garage.
"I'd always thought the teapot, which is what I've always called it, was special.
"Even so, when I took it to Hansons I was still unsure so dug out a few other bits and pieces for them to value in case they laughed at me when I pulled out the teapot."