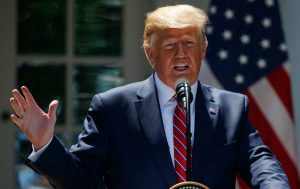 President Donald Trump has taken a vicious side-wipe at Meghan Markle during an interview.
Mr Trump told a live news conference he was "not a fan" of the Duchess of Sussex.
She and Harry have recently shown their support for Joe Biden – Trump's rival in the race for the White House.
When asked about Meghan Mr Trump replied:
"I'm not a fan of hers."
He then delivered a hammer-blow comment – adding:
"I wish a lot of luck to Harry, he's going to need it."
Earlier, Buckingham Palace stepped back from commenting on Prince Harry and his wife becoming embroiled in American politics.
A spokesperson said they were "personal" comments.
The Palace added: "We would not comment.
"The Duke is not a working member of the Royal Family and any comments he makes are made in a personal capacity."