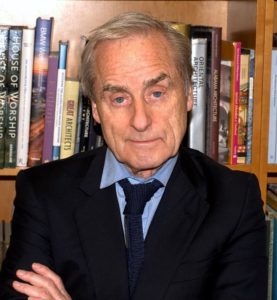 Fleet Street legend Sir Harold Evans has died. He was aged 92.
The news was announced by his wife, author and journalist Tina Brown.
Sir Harold died of congestive heart failure in New York.
The couple had been married for more than 40 years.
Sir Harold was the pioneering editor of the Sunday Times.
His final role was as editor-at-large for Reuters.
Sir Harold thrived on investigations.
One of his team's greatest exposés was the forgotten plight of British thalidomide children who were not compensated for their birth defects.
Sir Harold was born in Manchester in 1928.
He started out as a reporter on his local paper aged 16.
He became editor of The Sunday Times in the 60s, and editor of The Times when Rupert Murdoch bought the paper in 1981.
He left a year later after disagreeing with Mr Murdoch over editorial independence.
He said journalism was his "basic passion".
He believed in accurate, truthful reporting.
He added: "Journalism is not easy. It's the first rough draft.
"I don't think you need to wait around until you have the definitive thing.
"You record what's there; don't delude yourself that this is the ultimate historical view.
"Attempting to get at truth means rejecting stereotypes and cliches."
Among the many tributes Piers Morgan described Sir Harold as a "witty, charming, fiercely intelligent man".
And Culture Secretary Oliver Dowden said:
"He was a giant of investigative journalism – uncovering great injustices and informing the public without fear or favour."