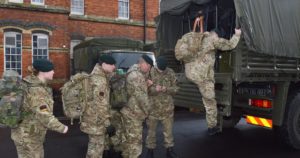 Library picture
Troops could be used to help the police enforce new lockdown rules, Boris Johnson warned.
Soldiers could be used on guard duty to allow officers to deal with people suspected of breaking coronavirus regulations.
They would be deployed to places like Buckingham Palace, Downing Street and Parliament.
Number 10 confirmed soldiers could be brought in under "Operation Temperer" – designed to help the police during terror attacks or public disorder.
"Operation Temperer" is made up of all of Britain's three armed services.
It was first used after the Manchester Arena bombing two years later.
The PM's spokesman said:
"[The police] will have the option to draw on military support, using tried and tested mechanisms.
"This would involve the military backfilling certain duties, such as office roles and guarding protected sites, so police officers can be out enforcing the virus response.
"This is not about providing any additional powers to the military, or them replacing the police in enforcement roles, and they will not be handing out fines.
"It is about freeing up more police officers."